Recently I ordered two copies of the Breviarium Romanum. The price difference was quite significant, one being an old used copy. Showing them together gives a good comparison between what book publishing used to be like compared with what we have today...
A quick disclaimer. The new breviary I have here is the "Econe Breviary" published by the SSPX. It does not fulfill Canon Law's requirement for publishing. Neither did my Diurnale, Anglican Breviary, or apparently the new Mother Angelica prayer book...or some other books that have appeared here. I've recently discovered this. We're going to look at these solely for quality.
Top: Desclee and Socii (1961) Below: Econe Breviary (2008)
Left: Econe at 7x5in. Its an odd shape for a breviary. Right: Desclee at 6x4in. Smaller than most.
The edging. The top one is 49 years old and used. Think about that for a second.
A closer look. The new edition's edging will flake off like fairy dust if touches water. The top one has lost all that it will. Notice the dent on the Econe. It came like that...grr....
The edging on the Econe Breviary.
Let's move to the insides. Here the Econe Breviary will fair quite a bit better. The layout is identical to the Diurnale Romanum published from PCP Books. However it is retypeset and they did a great job making it readable and pleasant on the pages. The Desclee and Socii Breviary is double column and very similar, save for the font choice, to the recent Nova et Vetera Breviary.

Desclee and Socii page layout. The font adds a nice touch to the book, which is small and designed with convenience in mind. Without engravings the fancy font is welcome.
Psalter in the Desclee.
The Desclee has one of those nifty secret compartment flaps in the back for storing your cards.
Page layout in the Econe. The font choice and size make it extremely easy on the eyes. I have to say this is really the best feature of the book. Also, the ribbon color choice is interesting. All of the colors are rather muted and I appreciate that they aren't flashy.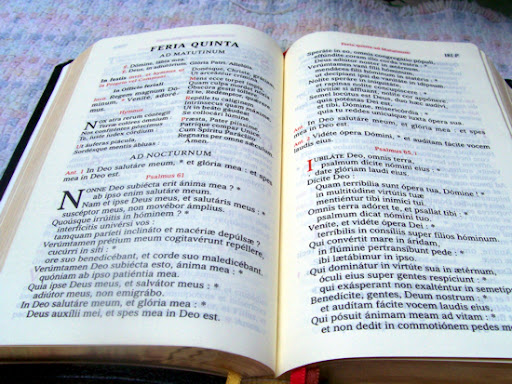 Econe Psalter. It is very nice. I've seen in some breviaries where people have written notes in them. May they did that word translations or if something struck them in a passage as important. There's plenty of room for that here.
Supplemental Propers for the SSPX... they appear to come from older office books. Would using these fulfill ones office obligation?
The ghosting (NOT bleed through) is significant but not terrible.
Econe binding. Pretty solid as far as I can tell.
The cover is rather a disappointment. I think its bonded but I'm not sure. Anyone know? It feels hardy.
The Desclee leather cover. In its day this must have been magnificent.
I bought the SSPX Econe Breviary because I saw my priest's Nova et Vetera edition. After only 2 or 3 years of use it looked like it had been through a war. These things are expensive and they need to last. Will the Econe? I have no idea, but I doubt the edging will. The binding...I think so. If you are looking to buy a new Breviarium you should consider every aspect. If you are obligated to pray the office you should inquire as to whether or not it will fulfill your obligation if you use a non-canonical book. (We could even discuss whether or not we are participating in some sort of sin by even purchasing it...but I digress...)

Here we are only looking at quality. Suffice to say even our nicest books today are shadows of their much older and distinguished cousins. I suppose there are many reasons, mostly financial, for this.